---
CST141 Project 1: Chapter 9
The Stock Class
---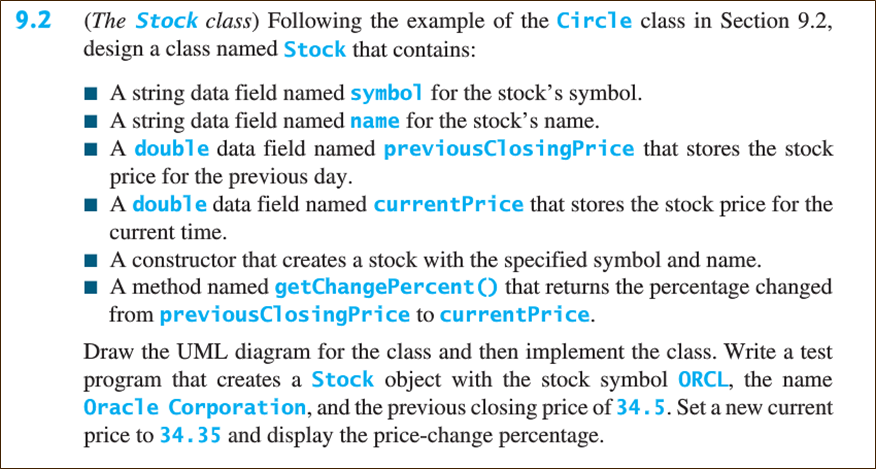 ---
In BlueJ create a new Java project named "project-1" with a class Stock as per the instructions in the textbook for Exercise 9.2 (see above).

Though not clear from the text, the constructor should take two parameters, one each to be assigned to the symbol and name instance variables; additionally in the constructor assign default values of zero (0) to the variables previousClosingPrice and currentPrice

Although the text does not specify, there should be two set methods, one each for the previousClosingPrice and currentPrice instance variables; in both cases use an if statement to assure that the value of both variables is zero (0) or greater

To calculate the percentage change in the getChangePercent() method, first subtract the previous closing price from the new current price and then divide by the previous closing price. For example using the test values in the textbook for previous closing price (34.5) and new current price (34.35), the percent change should be approximately -0.004

To summerize, the Stock class, as per the instructions above, should have just

four (4) methods

:

The Stock constructor with two (2) parameters that initializes the four (4) instance variables
A set method for the symbol instance variable
A set method for the name instance variable
The method getChangePercent that calculates and returns the percent change from previousClosingPrice to currentPrice

Document the program by (10% deduction on your grade if these assigned comments are missing):
Including a comment statement that decribes the application's purpose, as well as substituting your name (and the names of your teammates) for the existing @author and the assignment due date for the @version comment that already exist at the top of the new class
Entering a comment before each method (including the constructor) to describe its function
Draw the UML diagram for the class as specified in the textbook; it is suggested that you do this before you begin to create the class as this should make the coding much easier. However it is not necessary to "

Write a test program

..." as we have not learned yet in class how to do that.
---
Students may work on all projects in teams of two or three, and, if so, all students in the group must submit the same project to their own dropboxes in Blackboard. In the text box's dropbox, as well as in the source code documentation (comments), state the name(s) of the classmate(s) with whom you worked.

When all steps are finished, you will submit the "Stock.java" file that is found in the "project-1" folder.

The completed project with a copy of the Stock class file (the .java file) along with the UML diagram submitted electronically via attachments to a Blackboard dropbox is due to Prof. Struck by 11:59 p.m. on the date specified in the course outline.
---